Catching up...
I really should be working right now, but screw it. I haven't posted in this thing for so long, I feel guilty about it. So… let's see… what's been going on in the past couple of weeks?

We went down to SC for St. Patty's Day. It was a blast! My shamrock juice went over very well. I also took a lot of video with my new video camera! I still haven't figured out the best way to edit the video. I've been trying to muck around with Windows Movie Maker, but it really kinda sucks. I think I'm just going to have to invest in some good video editing software. Anybody out there have any suggestions? I think I'm leaning towards Pinnacle at the moment, but I'm just not sure. I'm such a newbie at this, it's easy to get discouraged.

Anyway, the weekend in SC… we saw our friends in Greenville, went to lunch with them and gave them their baby gifts, which was fun. I got to spend a little time with my mom. We had an incredible time in Florence at the party, got really drunk, and ended up at the Huddle House at 1 am… is there anything more Southern? Saturday we just spent the day together hanging out and watching movies. We watched National Lampoon's European Vacation, for God's sake. I haven't seen that one since I was a kid. It was as stupid-funny as I remembered it being. It was hard to leave, but nice to get home to our house.

Max is growing like a weed. He's so much bigger now! I need to post a picture of him again. Maybe I'll take some pics this weekend, or get Erin to. He likes to sit on my shoulder and watch me type when I sit at the computer. Soon he'll be too big to do that… he goes between bouts of snuggling and insanity, you know, running around chasing things that aren't there, galloping through the house like a herd of wild horses, tormenting his sisters by pouncing on them and biting their ears, or chasing them around the house. He's a great kitty!

We painted the dining room… bright red. It looks SO good. It wasn't that hard either, it only took us most of one morning to do. And the room is so different… it looks like it was always meant to be that color. Here's a pic: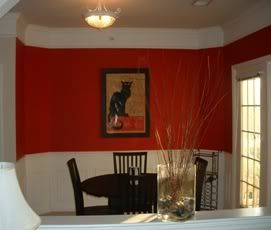 Nice, huh?

What else? Hmmm… I had an interview for a National Accounts Coordinator this week, on Tuesday. I think it went well. It lasted almost an hour! Keep your fingers crossed for me, I really hope I get this job. I would be working for the same company, but I would have a different supervisor (which is a good thing… the one I have now makes me crazy most days). Also, it would probably be a raise in pay. And when we finally get the money to move and are ready to go, I can do this job out of the Atlanta office, unlike my current job. I could just transfer to Atlanta… I would rather live in Greenville, but hey, you know what they say about beggars not being able to be choosers… also, if push really does come down to shove, "National Accounts Coordinator" looks SO much better on a resume than a plain old "Customer Service Representative"… right? In almost every way, getting that position would be a positive step forward… so I REALLY hope I get it.

Another plus, if I get the job, I can dump one of my current headache customers on someone else, and it becomes THEIR problem from now on. Ha!

I've also started working on losing weight in a very serious way the past couple of weeks. For the past four days I've gone treadmilling in the fitness center at our apartment complex. I've also changed my diet, made it around 1200 calories a day. My doctor has advised that I start out with a small goal, and move forward from that. So I'm starting with 30 pounds, and once I get there, I am going to enroll myself in a martial arts class. I've always wanted to do some sort of martial arts, ever since I was a little kid. It's about time, you know? But until I lose some weight, I won't be able to do it to the best of my ability. So when I hit the 30 pound mark, I'm gonna start looking for a good school around here to enroll in. It's a good thing for so many reasons…

If you're wondering, I've lost about seven pounds already. I don't plan to blog much on my weight loss goals here, I've joined a forum with some friends and we're doing a concentrated, only-weight-loss oriented thing on another site. But if you're curious, just ask me. ;)

OK, I have orders to put in now, so I can't just sit here and blog. *sigh* But I wanted to update, as one of my readers called me a "lazy blogger" last week!! I am NOT a lazy blogger! I am a BUSY blogger!!!! I processed over 50 orders for my largest account last week, and we're working on a huge project for them, so I hardly even have time to breathe or go to the bathroom lately, much less post on my blog. Anyway, I'll try to do better in the future.

That's it for now. Take care, all.
~Becky